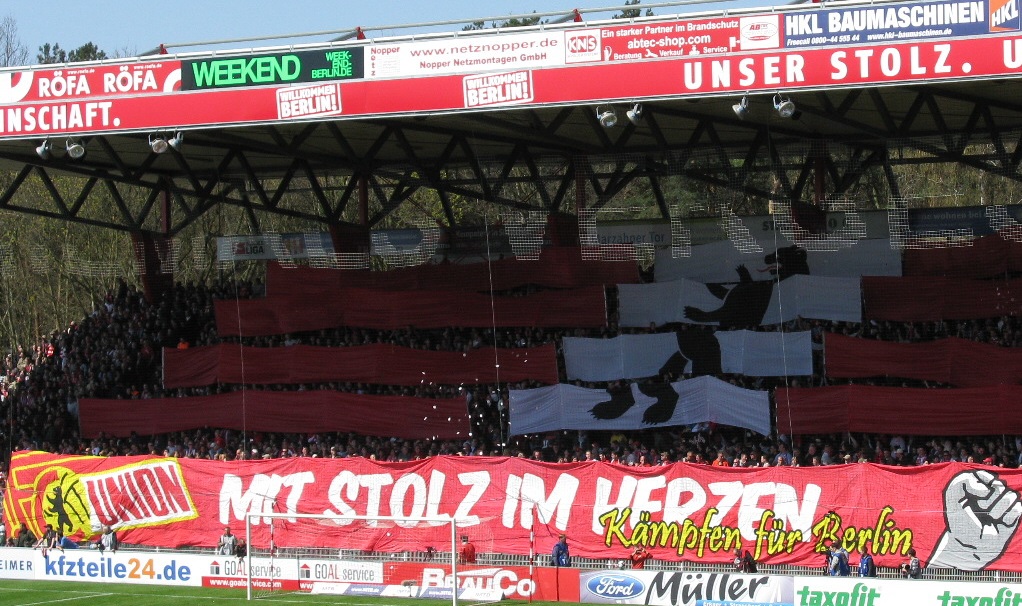 Three of the nine devices sell out in week 30
Our 'Weekend Attendance Figures' feature returns to report on events at Bundesliga stadiums over the Easter weekend in the Bundesrepublik.
While there was certainly competition from traditional houses of worship this round, there was also a lot going on among the football shrine devotees.
Photo: Seppalot13, CC BY-SA 3.0
Three Bundesliga stadiums filled to capacity on a hot and sunny Easter weekend in the Bundesrepublik. Germany's first major family party to not feature national rules on mass gatherings almost certainly played no part in any of the six matches with seats still available on Friday filling to capacity.

Dortmund, Freiburg and Augsburg again recorded well over 90% attendance.
Atmospheres at virtually all top German football venues remained lively everywhere but Sinsheim. Bundesliga fans have brought with them all the spirit that has been so lacking in the last two years of the global pandemic. All the vibrant energy is returning to the hallowed cathedrals of German football.
---
VfL Wolfsburg (at) Borussia Dortmund
Attendance = 79,200 (97.3%)

The audience for the "great beating of Wolfsburg" was not sold out. It obviously didn't matter to rookie sensation Tom Rothe; a very hot topic in German football circles after he got the nearly full crowd going with a surprise first goal.
Needless to say, the atmosphere at Signal Iduna was as always electrifying.
Immer wieder schön. 🤩💛 pic.twitter.com/onu4EYigBm

– Borussia Dortmund (@BVB) April 17, 2022
---
VfL Bochum (at) SC Freiburg
Attendance = 34,000 (97.9%)
Not quite a capacity crowd at the Europa Park Stadion to watch the weekend's other big blowout. It obviously didn't matter as the Breisgauer's home rocked all the way.
Pre-match festivities included balloons, streamers and confetti as part of the club's Easter celebrations. After the team bowed out, the local children had the chance to visit the pitch again for the first time since the pandemic began.
🔥🔥🔥 pic.twitter.com/rO7hpSH0ZQ

— SC Freiburg (@scfreiburg) April 16, 2022
---
VfB Stuttgart (at) FSV Mainz 05
Attendance = 30,128 (88.5%)
As head coach Bo Svensson's pre-match presser indicates, fan interest in the Pfälzer capital is waning somewhat as this "stable mid-table" campaign draws to a close.
This montage therefore came well short of a sale. Official confirmation of at least the relegation playoff spot came on Sunday after Bielefeld's defeat. The club felt ready to go ahead and confirm another season anyway.
Seit heute steht fest: Wir gehen gemeinsam mit euch in unsere 17. Bundesliga-Season! 😍 #Mainz05 #Bundesliga pic.twitter.com/o7qVrjYjIJ

— 1. FSV Mainz 05 (@1FSVMainz05) April 17, 2022
---
Hertha BSC (at) FC Augsburg
Attendance = 30,128 (93.0%)
It's not quite the support the Fuggerstädter could have hoped for in a game they will still blame themselves for giving up. Frankly, the atmosphere was rather subdued at times, especially towards the end of the competition.
A cute, but still enjoyable demonstration took place before kick-off as FCA commemorated the milestone of 20,000 official members.
Louis (6) aus Augsburg ist unser 2️⃣0️⃣.0️⃣0️⃣0️⃣. Mitglied! 🤩🙌 Er ist natürlich am Start für #FCABSC!

👉 Ab 3:30 p.m. live before @SkySportDE: https://t.co/gxLxWJVF5d pic.twitter.com/uEK1KamFds

— FC Augsburg (@FCAugsburg) April 16, 2022
---
FC Cologne (at) Borussia Monchengladbach
Attendance = 54,041 (sold out)
Instead of a (fully deserved) refund, the BMG enthusiasts who packed Borussia Park received an apology from coach Adi Hütter after a rather embarrassing display in the derby. Truly a bitter waste of a large crowd.
The Kurves were silenced early. Understandable whistles, boos and boos from the disappointed Fohlen faithful.
---
FC Bayern München (at) Arminia Bielefeld
Attendance = 26,419 (sold out)
Admittedly, the heavy underdogs certainly responded well to the raspy audible support inside the crowded Alm. The Teutoburgs played well above their level for long stretches in the loss to the mighty German giants.
A sold-out crowd in the DSC arena is something all Bundesliga enthusiasts remain delighted to have had the chance to see before the time came for German football's quintessential 'yo-yo club' come back down.
Ostern mit der Familie, herrlich! ⚽
👉 In unserer SchücoArena 🏟
👉 Hum HALBVIER ⏰
👉 Bei strahlendem Sonnenschein ☀️
👉 Mit pickepackevollen Rängen 💪

Es war einfach schön, Euch alle begrüßen zu dürfen!#immerdabei #DSCFCB pic.twitter.com/Pjx9EGyJeg

— DSC Arminia Bielefeld (@arminia) April 18, 2022
---
Eintracht Frankfurt (at) FC Union Berlin
Attendance = 22,012 (sold out)
Guest coach Oliver Glasner took full responsibility for the squad rotations which effectively turned the visit to Köpenick into a "no contest" game. After the emotional win over Barcelona at Camp Nou on Thursday night, Glasner aptly described his side as 'a lemon squeezed dry'.
Too bad. At least Eisernen's ultras had a dominant performance to cheer on.
Fans have made it clear that they expect a lot more from their team in this potentially historic week. Union fans at home to get one more 'home game' this season in the form of the DFB Pokal final at Berlin's Olympiastadion. Good luck with the trip to Leipzig, Jungs!
Guten Morgen, trade unionist! Rein in eine historische Woche 🤩 pic.twitter.com/VTfwmZqnDr

— 1. FC Union Berlin (@fcunion) April 18, 2022
---
SpVgg Greuther Furth (at) TSG 1899 Hoffenheim
Attendance = 16,110 (53.4%)
As usual, all was quiet on the Sinsheim front. Visiting supporters made their voices heard at PreZero. Neither team really made their voices heard on the pitch in a game that ended in a 0-0 draw. So goes the Kraichgau. No real fan news to be had from this club.
---
RB Leipzig (at) Bayer 04 Leverkusen
Attendance = 26,119 (86.5%)
Not necessarily a shock to see this fixture not selling as expected in the primer. It was, after all, Easter Sunday in sleepy company town the first year family gatherings weren't in danger of breaching pandemic restrictions.
Fairly sleepy match as well. Luckily for those of us watching, the North Kurve came out strong.
86.| 📢 "Auf geht's Bayer, KÄMPFEN und siegen…"#B04RBL 0:1 | #Bayer04 | #Werkself pic.twitter.com/0WvmW3O9Dm

— Bayer 04 Leverkusen (@bayer04fussball) April 17, 2022
---
Thank you very much for reading!
You may occasionally catch Peter on Twitter, @ViceytheSS.
Twitter DMs are open to football conversations, corrections and (if you really insist) general abuse.
All columns debut on Bulinews before appearing on Peter's website later in the week.
Related stories
Bayern set to extend Thomas Müller's contract
Report: Dortmund keen on Schlager and Laimer
Germans abroad: Weekend review
Schmadtke backs Kohfeldt to stay in charge after Dortmund thrashing