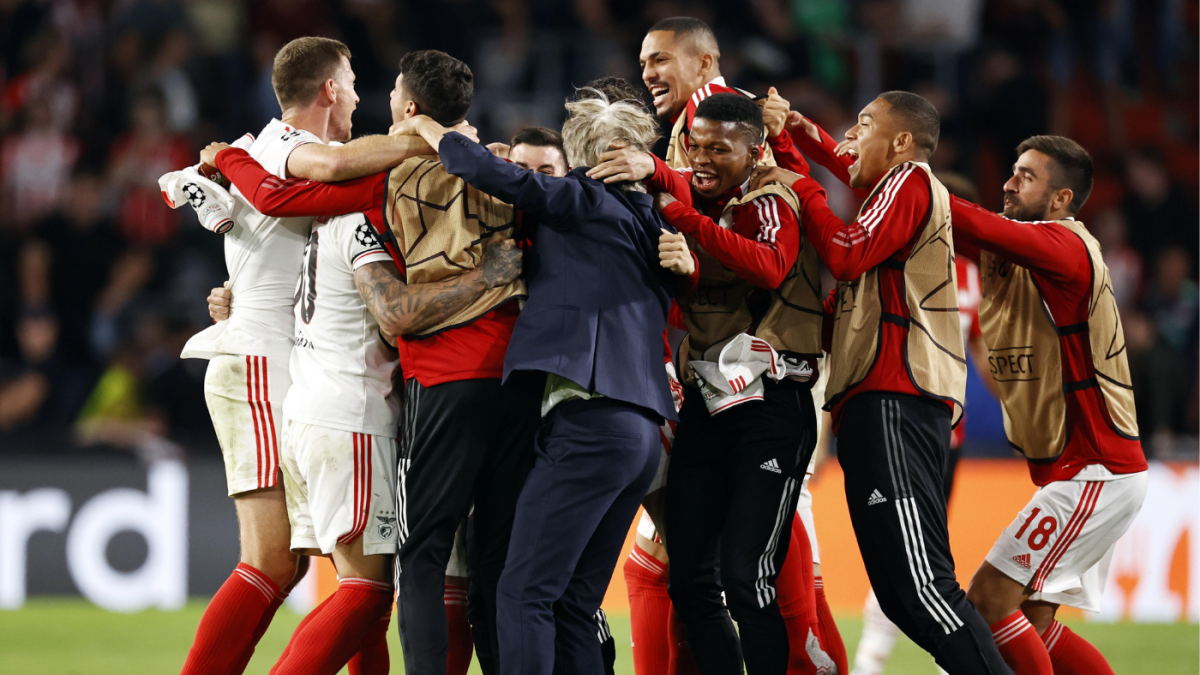 UEFA Champions League play-off results: Benfica push back against PSV; Young boys win a thriller; Malmö advances
[ad_1]
Benfica, Young Boys and Malmö have reserved their places for the Champions League group stage after a thrilling evening of playoffs in Europe on Tuesday which saw seven goals, two red cards and thrilling finals for all three games.
There are only three places left to be won in the group stages, all of which will be decided on Wednesday. With the losers of those six games having to settle for Europa League football instead, the stakes could hardly be higher so early in the season.
UCL dam results and calendar
Tuesday August 24
Champions path
Ferencvaros (4) 2, Young boys (5) 2
Ludogorets Razgrad (2) 2, Malmö (3) 1
League path
PSV Eindhoven (1) 0, Benfica (2) 0
Wednesday 25 August
Champions path
Dinamo Zagreb (0) v Sheriff (3)
Red Bull Salzburg (2) v Brondby (1)
League path
Monaco (0) v Shakhtar Donetsk (1)
Benfica resists Eindhoven
A fourth draw in as many visits to Philips Stadion was enough for Benfica to reach the Champions League group stage, with Jorge Jesus' 10 men holding on for a 0-0 draw that saw them beat PSV Eindhoven 2-1 overall.
Chasing the goal they needed to draw until extra time – there will no longer be an away goals rule in UEFA competitions from this season – it's no surprise that Dutch giants PSV dominated possession, territory and shots in the first half, especially after Lucas Verissimo received two yellow cards in just 32 minutes, the latter for a foul on dangerous Cody Gakpo.
Noni Madueke approached twice soon after, first with an inside run from the right that saw a curling effort pass Odysseas Vlachodimos' far post. The Greek keeper did well to parry a second effort inside the box, coming out quickly to close Madueke's goal angle as the PSV forward tried to fold the ball.
Despite being down to just 10 men, Benfica defended impressively, bringing in veteran center-back Jan Vertonghen in the second half as their task was more to maintain their lead rather than attempt to extend it. Still, Eran Zahavi should have done well, much better than hitting the bar at close range after Gakpo played for him. Following that, PSV's beautiful interaction always seemed to end with a defensive body available to mop up anything that came into the box, with most of the hosts' best chances coming from the long-term efforts of Ibrahima Sangare and Andre Ramlho.
Yorbe Vertessen was twice pushed back by the excellent Vlachodimos, getting up quickly to parry the rebound after a powerful initial forehand on him, while when Mario Gotze was fouled at the edge of the box at the At the start of five minutes of added time, the Eindhoven crowd began to hope that Zahavi could redeem himself only so that his shot would deflect from the vault wall.
Young boys win thrilling tie
The best first-leg tie picked up where it left off in an opener that saw five outstanding goals, a red card for the winner and an excluded penalty for encroachment. It was Ferencvaros' clumsy defense that allowed the Young Boys to double their cumulative lead after their victory in Bern.
The Hungarian champions had no shortage of attacking punch in the first leg and their early setback only accentuated the hosts' efforts. The Young Boys looked hardly like the kind of team that could control a game regardless of their lead and their defense was guilty of staring at the ball when David van Balmoos flew to Ryan Mmaee's cross, placing him only on the path of Henry Wingo, the only player living at the bouncing ball. There was little or nothing that Van Balmoos or his defenders could do to stop the goal that tied the tie, with the exceptional Mmaee rushing to the near post where he scored the goal that tied the tie.
The drama did not end at halftime. The Young Boys seemed determined to redeem themselves for letting their lead slip away, cutting Ferencvaros to the right before Meschack Elia crossed low for Christian Fassnacht to score the equalizer on the night.
If one period summed up this wonderful draw, it was the 64th minute. Nicolas Moumi Ngamaleu's flurry on the left took him inside the box, a delicate chip from a tight angle crashing into the post to Jordan Siebatcheu, who failed to transform into a empty net. Ferencvaros charged up the pitch but Aissa Laidouni was behind on a 50-50, receiving his second yellow card and making the task for the home side even more difficult. Admittedly, Young Boys couldn't say they didn't have their chances of killing the draw, as Siebatcheu saw a bad penalty saved comfortably by Denes Dibusz.
One couldn't help but feel that all of those missed opportunities could be punished by Ferencvaros but until the end that tie proved to be totally unpredictable, with Felix Mambimbi sneaking up behind the defense before completing an excellent shot to the body. de Dibusz, sending the Swiss team to the stages group for the first time in three years. David Wagner's team will certainly be an exciting watch against whom they will be drawn.
Malmö survives Ludogorets charge
Trailing 2-0 in the first leg, Ludogorets could barely relax in the game, but they appeared to be second-best early on as their visitors sought to eliminate the tie. However, an out of play goal paved the way for a much more intriguing tie, with captain Anton Nedyalkov meeting a corner to cut the deficit in half. Almost immediately it looked like Malmö had restored their lead to two goals in total when Soren Rieks converted in the 16th minute, but VAR intervened after spotting an offside Anders Christiansen in the preparation.
There was to be no respite for the Razgrad hosts just before the break, with a 33-meter free kick from Veljko Birmancevic taking the slightest deviation as he soared into the net, the brilliant second goal he scored in this draw.
Perhaps that would have been enough to dash Ludogorets' hopes, but instead they went about their task with even greater urgency, pushing higher in the second half in an effort to force a Malmö error. He duly arrived just before the hour mark, VAR calling the game back after a chance by Christiansen to award the penalty that Pieros Sotiriou sent.
Although Kiril Despodov came close late on Malmö, he almost managed to hold Ludogorets at arm's length as the home side failed to register a shot on target after the penalty.
[ad_2]